The Advantages of Professional Application for Industrial Coatings
When it comes to protective coatings for your industrial floors, there is no better choice than a professional application from SSP Coatings Garage Flooring Company. At SSP Coatings, we understand the importance of having a strong and durable floor that can withstand both everyday wear and tear as well as heavy-duty use. With our certified technicians and quality coatings, you can be sure that your industrial floor is receiving the best protection possible. In addition, we use only the best tools and equipment for our projects, so you can rest assured that your industrial floor is receiving professional attention from start to finish.
Why Professional Application is Recommended?
When it comes to industrial settings, it is essential to have surfaces that withstand the wear and tear of daily activities. This is where the professional application of industrial coatings comes in, especially for concrete floor coatings. Such coatings not only protect surfaces from daily pressure but also enhance their appearance. With proper application, industrial floors can be made safer, more durable, and corrosion resistance, reducing the likelihood of accidents and minimizing repair costs. To achieve the best results, it is always recommended to seek professional application of industrial coatings for your industrial floors or commercial buildings.
Factors to Consider When Choosing an Industrial Coating
Type Of Surface

Whether it be an industrial floor coating or concrete coatings for walls


Usage Of Area Needing To Be Coated

You will need to select industrial flooring solutions that can withstand heavy foot or vehicle traffic, harsh chemicals, or extreme temperatures


Cost, Durability, and Environmental Impact

With these factors, you can select an industrial coating that will provide long-lasting protection and enhance the overall safety and functionality of your facility

Tips for Ensuring Optimal Performance After Installation
As a business owner, investing in industrial floors is a big decision. Ensuring optimal performance of these floors after installation is crucial to the success of your business. One way to do this is by investing in concrete floor coatings. These coatings add an extra layer of protection to your floors, making them more durable and long-lasting. However, installing these coatings is just the first step. To maintain optimal performance, regular maintenance is necessary. This includes cleaning your floors regularly to prevent any buildup of debris or chemicals. Additionally, inspecting your floors for any signs of wear and tear can help you catch any issues before they become serious. By taking these simple steps, you can ensure your industrial floors remain in top condition, providing maximum value for your investment.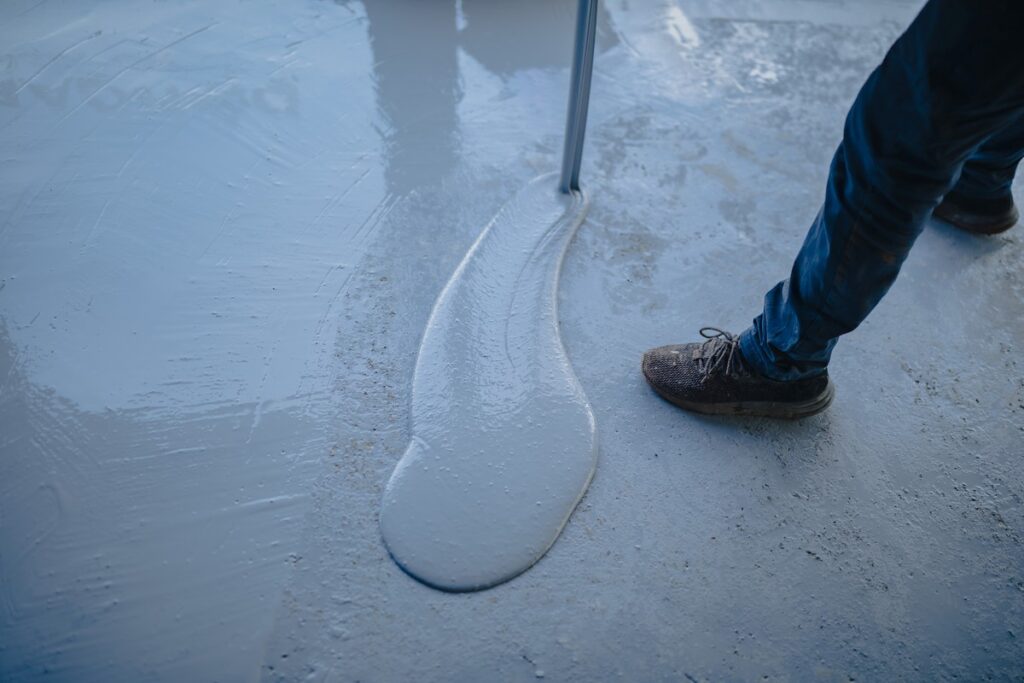 Experience the Difference of Working with SSP Coatings!
Here are just some of the advantages you can expect when hiring SSP Coatings Garage Flooring Company for your industrial floor coatings:
– Certified technicians with years of experience in the industry
– Quality materials and tools for top-notch results
– Professional attention to detail from start to finish
– Long-lasting protection for your industrial flooring
– Affordable pricing to fit any budget.
Industrial coatings provide a quality and cost-effective way to protect your floors from wear and tear. They are ideal for applications in commercial and industrial settings, providing a long-term solution for superior surface protection. With professional installation, you can ensure that your coating material is applied correctly, maximizing its performance. Additionally, it is important to consider the factors which make up the best industrial coating for your property when making the selection. 
When you prioritize having a professional team of applicators apply the coating, you get the benefit of a quality job done right—saving you time and ensuring durability so that your finished product will last for years to come. By following through with proper maintenance after installation and following tips outlined in this post such as providing sun protection and regularly checking moisture on site, you can guarantee optimal performance of your industrial floors. Take your industrial floors to the next level with SSP Coatings today!
Call Now
Take the Next Step Towards Superior Industrial Coatings!
Are you ready to enhance the durability and protection of your industrial surfaces? Don't settle for DIY attempts that may fall short of your expectations. Take the next step by entrusting your coating project to the professionals at SSP Coatings Garage Flooring Company. With our expertise, quality assurance, time and cost efficiency, safety compliance, and tailored solutions, we guarantee exceptional results that will exceed your expectations. Contact us today to discuss your industrial coating needs and experience the benefits of professional application firsthand. Transform your surfaces with SSP Coatings Garage Flooring Company and enjoy long-lasting, top-quality results!
423-342-4158