Garage Floor Coating Application Process
PROFESSIONAL INSTALLATION
When you hire us to perform your garage floor coating process , you will be able to enjoy your floor for years to come; We finish the Epoxy coatings to the floor. With our ability to offer the best quality in the fastest time possible.
Our team is comprised of highly trained personnel that are also highly experienced in this field. It enables us to operate within high standards and with a discipline that will allow you to get to use the floor as soon as possible. SSP Coatings' professional team tries as much as possible to stay on track and get the time accomplished as in the set schedule.
You will not have to worry about the work being completed late. That is why we are highly recommended if you are trying to meet a deadline for an upcoming family event or a similar occasion.
STEP 1: Garage Floor Surface Preparation
Garage Floor Surface Preparation is one of the most important processes as it will ensure that our system will stick as best as possible. Our coatings are lab tested and proven that the concrete will fail before our Coatings do! SSP Coatings, a Garage Floors Company, is equipped with industrial-grade, walk-behind diamond floor grinders that are the best for floor grinding and will create an industry-standard CSP2 (Concrete Surface Profile). This process is essential to opening up the concrete's pores and all stains and materials that were on the surface to create a concrete floor that is both clean and porous – for the best coating adhesion possible. This will enable the coatings we apply to penetrate deep into the substrate and create a strong, tenacious mechanical bond that will outlast the concrete. Before moving to the next step, we examine the floor, do repairs on any cracks, and ensure its integrity is at its best. If there are cracks, we repair them with a fill material that is installed and ground smooth.
Step 2: Primer & Base Coat Application
For this step, we used the most advanced, industrial-grade 2-part materials that exceed industry standards unavailable to the general public. Our industrial-grade coating systems are low VOC and LEED compliant. Thus, there is no need to worry about health hazards. We have a unique set of materials that will be best for home garages, and you can rest assured knowing we back our product with a full Lifetime Adhesion Warranty. After a series of mixtures, the product is laid on the concrete and spread evenly to force the epoxy into the floor's pores. Large rollers will give the product that final finishing touch that will spread it out uniformly.
Step 3: Flake Distribution
Immediately after installing the Base Coat, we perform a Full Broadcast of Vinyl Flakes into the base coat to ensure 100% coverage and even distribution. After the flake is applied, we allow the base coat to dry fully to ensure a proper bond of the flakes. We then scrape and remove all excess flakes to ensure a uniform, non-jagged floor finish. We perform a Full Flake broadcast to ensure every inch of the floor is evenly covered in the flake. This step ensures that the work done is durable and least prone to damage. We have a variety of color options to choose from. 
Step 4: Protective Clear Coat Application
We use an industrial-grade Polyaspartic to seal the flakes into position to ensure that the floor is highly durable, chemical resistant, easily cleaned, anti-microbial and beautiful. During this final step, we can apply a Slip-Additive to reduce slip hazards when the floor is slightly wet as well as an additional Scratch Resistant additive to increase the abrasion resistance of the top coat's surface.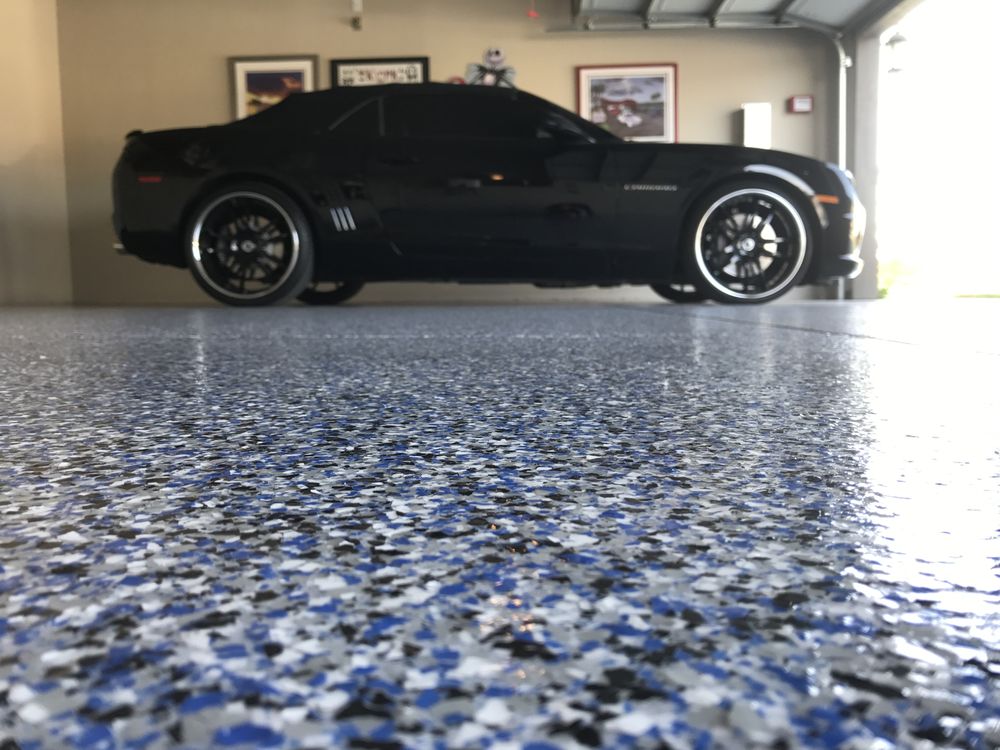 Step 5: Return-To-Service & Cleaning
Depending on the size of the floor, our work can be completed in as little as One Day! You can place light items back on the floor within 24 hours from installation and can park your vehicle on the floor within 48 hours. Your garage floor will have an attractive look, and it would be a great complement to your beautiful home, surely an envy of anyone who sees it. Occasional cleaning of debris and dirt using a blower or even a Ph-neutral cleanser will keep your new floor in great condition! If you treat the floor well, you can expect years and years of great use from our great looking floor system.
All backed by a Lifetime Adhesion Warranty!